My
Yooo
vibrator looks like a bubblegum-colored Mickey Mouse head. It's the cutest sex toy I've ever seen!
The
Yooo
has three silicone balls, two piled on top of the third, and it covers the vulva with a delight of vibrations coming from two motors. (The three "o"s in the name "Yooo" represent the three balls.)
I love the diffused feeling of vibrations and pulses all over the clitoral area -- not just the clitoris itself, but the labia and mound, with my anatomy, anyway. I can't imagine inserting any of it -- the balls are too big and wouldn't get in very far if even you can accommodate the girth-- in case you're asking.
The
Yooo
is wonderfully strong--just how we seniors like it! I especially like the rumbly vibrations. It's also waterproof and reasonably quiet -- not silent, but your grandkids in the next room won't hear it, and no one will know you're using it in the shower.
It's a quality product made of medical grade silicone. I like the cushiony feel -- I often complain that some vibrators are too hard. (I'd enjoy it even mushier, if you're asking me to design the perfect sex toy.) The matte surface gives a little drag or pull when it's moved around, which is a nice sensation as long as you use enough lubricant. I like my bubblegum pink color (I'm tempted to chew it), and it also comes in dark blue, orange, and green.
Like many of the new
Fun Factory
toys, The
Yooo
is rechargeable -- no batteries -- just stick it to the magnetic plug, and once it's charged, use it and enjoy. Although there's a note on
EdenFantasys
that it can be difficult to charge, I found it supremely simple. The magnet just grabs onto the right spot and stays there.
The one weirdness is that the instructions say to press "the button on the control unit" to turn it on. There are three buttons on the control unit. With a few seconds of experimentation, I learned to hold down the "+" button until it starts rumbling. Keep pressing the "+" button, and the vibrations get va-va-voom strong and/or change modes. With motors in both top bubbles, you can explore how you want them to mix or match. For example, one mode alternates between the two motors, revving up one ball, then switching to the other.
The daisy button is a "turbo charge" when you're ready to go over the top. Woo hoo!
Oh yeah, you could also give an awesome shoulder or penis massage with it! Or, men, would it be too strong?
My only reluctance in giving this adorable toy a billion-star rating is that the buttons aren't easy to press. You have to bear down hard on them, even to change modes or intensity, and after a few minutes of experimenting my thumb was tingly, which wasn't my goal. It also doesn't come with a storage pouch, which is shame given the quality and cost of this toy. Since it collects lint (and, in my house, cat hairs) easily, you'll want to store it in a non-linty bag.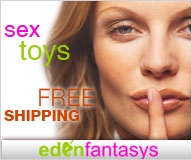 Thank you,
Eden Fantasys
, for sending me the
Yooo
for review. Such fun and pleasure!